Thursday September 29th. The AGTV Network finishes up our Equipment Highlight with a look at livestock trailer for your herd.
There was time when moving the herd meant a cattle drive in the true sense of the word. Cowboys, chuck wagons and the long hard dusty trail were trademarks of the traditional cattle drive. Today the cattle drive is very different. Semi tractor and trailers changed the cattle drive. The "drive" is more of a "haul". When it comes to hauling here are some equipment choices.
We start with Merritt, a little bit different approach. Just click the link to the PDF.
Here is some additional information.
Merritt Standard Features & Benefits
Bull Nose:
Introduced by Merritt in the 1960's, this innovative design couples good looks with improved fuel economy. It remains the most efficient design for lowering aerodynamic drag and producing a smooth inside surface that does not bruise livestock. This increase in fuel efficiency will put extra dollars back into your pocket over the life of the trailer.

Roof Construction:
Merritt's roof is designed to haul livestock and is built w/.050 aluminum skin fully riveted to roof bows that will resist flexing and stop costly roof repairs. No gimmicks or van roofs here, only the time-tested best.
* Shown with roof hatch.

Welded Floors with 3″ I-Beam Cross Members:
The strongest floor in the business is built with 3″ I-beams welded to a thicker floor plate. I-Beam cross members won't flatten out after years of use and with no rivets to vibrate loose, the floor will stay in place. Closer rib spacing means better footing and fully overlapped top seams ensure fewer leaks. Working together they increase the usable life of your new Merritt.

Sheet and Post Design:
High grade aluminum alloys that are heat treated to resist dents and tears and shines better than any trailer on the market today. This also provides unmatched inside width for maximum livestock comfort.

Upgraded Running Gear:
Aluminum hubs, Centrifuse drums and extended service brakes mean lighter weight and lower life cycle costs. All are standard equipment on a Merritt trailer.

LED Lights:
Merritt again takes the lead in safety by being the first livestock trailer to be standard with LED lighting. Lower life cycle cost with longer harness life, fewer wiring problems and brighter lights mean lower maintenance cost.
Lengths

Available in 38 Ft through 53 Ft

Width

Front End

12″ Radius Front Corners
Aluminum Single Wall Construction
6″ Aluminum Lower Front Channel
Three-Piece Aluminum Cap.
Drops available in 12″ and 19″.

Height

King Pin

6″ High Assembly. Settings: Standard is 30″; Minimum is 27″

Spare Tire Carrier

Sides

Formed Sheet with Offset Posts on 21″ Centers, Double Embossed Openings and ribbed embossements in solid areas.

Roof

One-piece translucent roof skin bonded to extruded aluminum roof bows. Aluminum roof optional.

Rear End Compartment

6′ standard length. Drop changes with front drop.

Rear End

Left-Hand Roll-Up, Right Hand Solid. Full Width Rubber Bumper, Four Vertical Rubber Bumpers, and Stirrup Step.

Floor

Aluminum Tread Plate with 5 Longitudinal Corrugations supported by 6″ high extruded aluminum crossbars.

Suspension

Neway Air Ride on aluminum subframe

Divide Gates

Ramps

Decks

Lights

Clearance, marker, stop and turn lights are LED.
Perhaps you need a goose neck instead of the fifth wheel, small yes but sometimes you need smaller.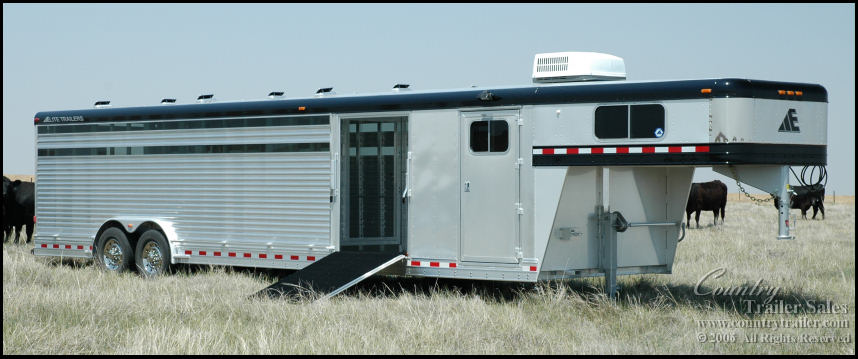 This is an example of a nicely equipped Elite show cattle trailer.  This unit is an 8′ x 32′ with a 6 foot dressing room.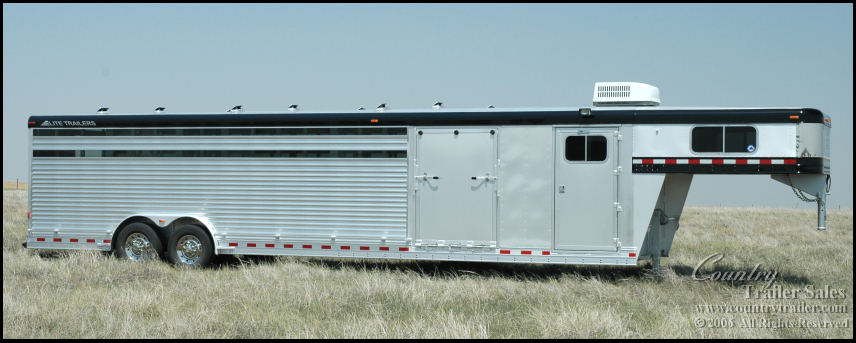 So for your next cattle drive is it a Merritt or maybe a Wilson  or maybe an Elite. Just need a truck or semi tractor to do the pulling. The AGTV Network hopes you have enjoyed our look at cattle equipment during September 2011.